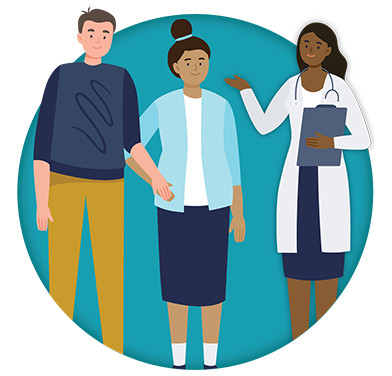 CardioSmart is working with Cardiology Fellowship Program Directors across the country to help educate fellows-in-training about the importance of shared decision-making.
Program directors: Download this slide presentation to explain shared decision-making and the challenge to your FITs. Also, you can print and distribute this handout with all the details of the challenge to your fellows.
The Challenge for FITs
Use a CardioSmart tool with 5 patients and submit an essay about your experience to your Program Director. If your narrative effectively shows shared decision-making in action, you could be 1 of 3 winners.
The Reward
CardioSmart/Patient Voice Team will select Top 3 essays as winners.
These fellows will:
Be featured in Cardiology magazine
Receive free registration at ACC.23 annual meeting in New Orleans
Have an opportunity to present at the Program Directors and Graduate Medical Educators Symposium at ACC.23
The Timeline
Aug. 29: Challenge launches
Nov. 30: Deadline for fellows to submit writeups to their Program Directors
Nov. 30-Dec. 16: PDs review submissions
Dec. 19: Deadline for PDs to submit one writeup to CardioSmart for final round of judging
Dec. 20-Jan. 13: CardioSmart/Patient Voice team reviews submissions and selects three winners
Jan. 16: Top 3 fellows notified
Detailed Instructions
1. Fellows choose from three CardioSmart tools to use with five patients:
2. Fellows submit a narrative to their Program Director (750 words or less) via MS Word demonstrating that they engaged in a shared decision-making conversation using the tool with their patients. Narratives should include the following:
Basic information including:

Gender/age/ethnicity/condition of patients

Geographic area of clinician and patient

Decision aid or infographic used with patient

Setting (virtual vs. in-office)

Did this tool help to facilitate your decision-making conversation with your patients?

How long did this process take/how long did you spend with each patient?

What went well during this process?

What challenges did you face?

What would you improve/what would make this process easier (for clinician and patient)?

What decision was made? If not, why not?
3. Program Directors will use a four-part grading rubric (see below) to select one fellow's narrative to move on for final judging by the CardioSmart/Patient Voice Team:
Demonstrates an understanding of the 5 steps of shared decision-making

Explains how

shared decision-making

enriched the clinician-patient relationship

Addresses social determinants of health and their impact on patient decision making

Expresses how

the challenge intersects with

at least one

of the ACGME Competencies:
Patient care and procedural skills

Medical knowledge

Practice-based learning and improvement

Interpersonal and communication skills

Professionalism

Systems-based practice
4. Program Directors select the narrative from their program with the highest score and then email their pick to Arielle Fingerman at afingerman@acc.org with "Shared Decision-Making Challenge" in the subject line.
5. CardioSmart/Patient Voice Team will review all submissions and select the top three winners.
Let us know you're participating by using #CardioSmart, #SharedDecisionMaking, or #CardioSmartChallenge on Twitter.