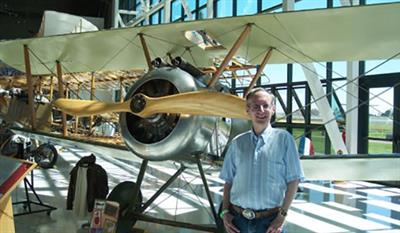 My name is Michael Melstad. I'm 64 years old and—miraculously—I'm alive and doing well. It's miraculous because, according to what cardiologists have told my family and from what I find in medical books, I shouldn't have survived this long.

I was born with a large ventricular septal defect and truncus arteriosus. These heart defects led to Eisenmenger's complex and pulmonary arterial hypertension. My oxygen saturation level is usually about 80 mm Hg when at rest, which is lower than expected and therefore frightens the nurses who take my pulse/oximeter readings for the first time. I also used to be very cyanotic (having low blood oxygen levels). My issues occurred before corrective surgery was available, so I've never had any surgery, and my defects are unrepaired

My understanding of my health condition is incomplete, but I do know that while I was growing up my parents were not given much hope of my long-term survival. Despite the odds against me and my physical limitations, but with the help of my family, friends, doctors and cardiologists, I went through life trying my best to keep up with everyone else.

After completing high school, I graduated from Oregon State University with a bachelor's degree in business administration and a concentration in accounting. My father was an accountant for a corporation, and he and my mother had a home business in accounting and taxes, which helped make ends meet. Job interviews taught me that my health problems limited my employment opportunities, so I stayed at home with my parents and expanded their home business. I specialize in accounting, payroll processing and tax returns. I took ownership when my father retired. He still works with me during tax season.

I've always been short of breath with exertion, but I try to be as physically active as possible. Lately my cardiologists have put me on sildenafil and ambrisentan, which are vasodilators (make blood vessels wider). They have made a tremendous difference in my life. I am no longer as cyanotic as before, my stamina has increased, and other secondary problems such as nosebleeds and bleeding from my lungs have been greatly reduced or even eliminated.

I am active in church, which I find very important because I have been blessed with a long life and reasonably good health. I'm also active in a state tax association. I travel some and keep trying to be as active as possible. While I love music, the hobby that I enjoy the most is reading because that is when my physical difficulties do not exist. When I climb into a good book, I can enjoy adventures, travel the world and explore history without any limitations at all.

Although I can't do everything that others do, there are many things I can do. I am blessed to be a contributing member of society.